CHICAGO, ILLINOIS, USA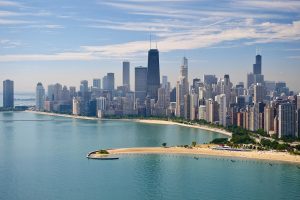 Triathlon in the big city
Triathlon in the big city
The Chicago Triathlon goes back 37 years and it was the first triathlon in a major metropolitan area in the US. Triathlon pioneer Scott Tinley (USA) was the first champion in 1983. It was part of the US Triathlon Series till 1987, when it joined the Tri-America Series and then in 2007 the Lifetime Triathlon Series, which it is still part of with New York, Minneapolis and Miami. In 2007 it was recognised as the biggest triathlon in the world with 8,000 participants and it is still one of the biggest. Triathlon legend, Michelie Jones is a 7-times winner.
In 2014 and 2015 Chicago was part of the World Triathlon Series and hosted the Grand Final in 2015. Gwen Jorgenson (USA) sealed her World Championships title with a win in Chicago. Mario Mola (ESP) won the men's race, but had to leave the title to Javier Gomez (ESP).
FUN FACT!
The Accenture Chicago Triathlon already had a live webcam video from the finish line in 2005 and real-time race updates through a messaging service!
---
Find out more about MetaSport Live and the Triathlon World Tour, 6 May – 1 June 2020, here. If you wish, join us, it's free!
Check here the other Triathlon Destinations reached by the MetaSport Live Triathlon World Tour participants and learn interesting triathlons facts.