EIDFJORD, NORWAY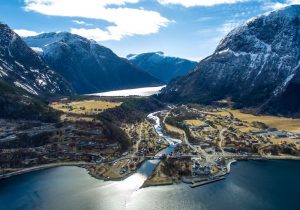 Xtreme Triathlon
The Norseman Xtreme Triathlon is a point-to-point triathlon that starts in the icy waters of the Eidfjord, has a total ascent of 5,000m through Norway's wilderness and finishes at the peak of Gaustatoppen at 1883m height. Needless to say that this iron distance race is not for the faint-hearted. The opening statement on the event website says it all:
"This is not for you.
Nothing personal. But it's not.
This is for people with fight. Resilience.
And minds tougher than their bodies.
They're not interested in being the best.
All they care about is besting themselves.
They're no nonsense.
No hand-holding. No sugar-coating.
They're in pursuit of something bigger.
Their team behind them, a smile on their face.
If that sounds good, then maybe we were wrong about you."
Athletes must have their own support crews for food and drinks. The support crew must accompany their athlete also on the last ascent for safety. Besides potentially bad weather conditions it is the combination of fatigue and altitude that poses a risk on the final ascent.
FREAKY FACT!
In 2015 the swim was halved because the water was measured at 10C!
---
Find out more about MetaSport Live and the Triathlon World Tour, 6 May – 1 June 2020, here. If you wish, join us, it's free!
Check here the other Triathlon Destinations reached by the MetaSport Live Triathlon World Tour participants and learn interesting triathlons facts.