LANZAROTE, SPAIN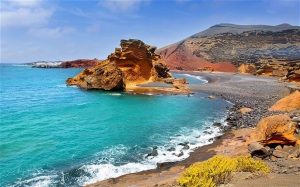 The hardest Ironman on earth
The hardest Ironman on earth
Lanzarote is probably the hardest Ironman in the circuit thanks to its unique, but hard 1-lap bike course with a total of 2,500m elevation and occasional strong winds. In 2011 the conditions must have been quite favourable, as both course records are from that year. Though, let's not take anything away from Timo Bracht's (GER) and Rachel Joyce's (GBR) records of 8:30 and 9:25. Both were formidable athletes and particularly cyclists.
Fredrik van Lierde (BEL) and Nikk Bartlett (GBR) are the reigning champions. Paula Newby-Fraser (ZIM) is the only athlete who has managed to win Lanzarote three times.
Lanzarote is still one of the few, if not the only Ironman in Europe that is organised by a licensee. Race director Kenneth Gasque is the man behind triathlon on Lanzarote. He started the Vulcano Triathlon in 1984 and wanted to bring an Ironman to the island soon after. Roth pipped him to the line to be the first Ironman in Europe in 1988. However, he got his Ironman in 1992. Since 2010 he has launched Ocean Lava Triathlon and the Ocean Lava Triathlon Series with races across Europe.
Lanzarote is also known as a training mecca for (tri)athletes. The all-year round warm climate and Club La Santa's amazing sports facilities (three Olympic size pools, an athletics track and numerous other sports facilities) make Lanzarote a popular training destination.
FUN FACT!
The Ironman license fee offer in 1987 was US$15,000 + 10% of gross receipts. How times have changed!
---
Find out more about MetaSport Live and the Triathlon World Tour, 6 May – 1 June 2020, here. If you wish, join us, it's free!
Check here the other Triathlon Destinations reached by the MetaSport Live Triathlon World Tour participants and learn interesting triathlons facts.