LAUSANNE, SWITZERLAND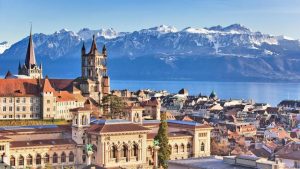 ITU's Headquarters
ITU's Headquarters
ITU moved its headquarters from Vancouver, Canada, where it had been based since its inception, to Lausanne in 2014. Lausanne is, significantly, also the base for the IOC (International Olympic Committee). …and maybe the friendly tax climate spoke for the move too.
Lausanne hosted the Grand Final of the ITU World Triathlon Series in 2019. Kristian Blumenfelt (NOR) and Katie Zaferes (USA) won the final. Zaferes and Vincent Luis (FRA) secured the overall World Championships series win.
In 2006 Lausanne hosted also the old-style single-day ITU World Championships. Tim Don (GBR) and Emma Snowsill (AUS) claimed those crowns. Snowsill is the only woman to have won 3 world titles (2003, 2005 and 2006).
In the men's competition there are more prolific winners:
…but the biggest Champion in ITU Triathlon racing is without a doubt Javier Gomez with 5 titles. He has won the World Championships in the old single-race format in 2008 and four times the World Triathlon Series (2010, 2013-2015). He also finished 4 times second (2007, 2009, 2012, 2017) and 2 times third (2011, 2019). The only two times he has not been on the podium since 2007 are 2016 and 2018!
---
Find out more about MetaSport Live and the Triathlon World Tour, 6 May – 1 June 2020, here. If you wish, join us, it's free!
Check here the other Triathlon Destinations reached by the MetaSport Live Triathlon World Tour participants and learn interesting triathlons facts.