LEEDS, UK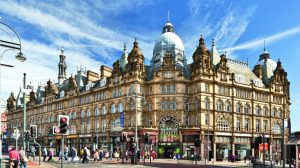 The home of British Triathlon
The home of British Triathlon
Leeds is the home of the Brownlee Centre, British Triathlon's purpose built training centre for their Elite triathlon squad. It also hosts a ITU World Triathlon Series event since 2016. The inaugural event did not pass without incident. Although the Elite events were a promotion for the sport, the age group races were ill-managed. The organiser, British Triathlon and Ironman, were flooded with complaints and issued a public apology.
Ironman, you ask? Yes, Ironman owned 6 out of the 9 ITU World Triathlon Series events in 2016 when it purchased the 'endurance sport' division from Lagardere. Although ITU and Ironman got on a lot better than during the peak of their feud around 2004, it was still seen as a sudden twist to their shared history and was followed with great interest. This changed quickly, though, when Cape Town and Stockholm events left the World Triathlon Series in 2017 and Ironman bungled and lost the Leeds event.
FUN FACT!
Each of the Leeds events (2016-2019) has had 2 British podium placers:
2016 and 2017: Alistair and Jonathan Brownlee were 1st and 2nd
2018: Vicky Holland and Georgia Taylor-Brown 1st and 2nd
2019: Georgia Taylor-Brown and Jessica Learmonth took 1st and 3rd
British Triathlon is one of the oldest triathlon associations in the world. It was established after a group of athletes took part in the Nice Triathlon in 1982.
---
Find out more about MetaSport Live and the Triathlon World Tour, 6 May – 1 June 2020, here. If you wish, join us, it's free!
Check here the other Triathlon Destinations reached by the MetaSport Live Triathlon World Tour participants and learn interesting triathlons facts.