MINNEAPOLIS, MINNESOTA, USA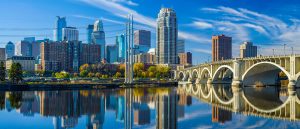 Olympic Distance racing to the fore
Olympic Distance racing to the fore
The Lifetime Fitness Triathlon entered the scene in Minneapolis with a bang in 2002, by offering the biggest prize purse in triathlon – $500,000. That was unheard of for an Olympic Distance triathlon! The biggest names in the sport flocked to the event.
In 2007 it joined hands with other urban races Chicago, Los Angeles, Dallas and New York to form the Lifetime Fitness Triathlon series. Triathlon legend Greg Bennett won all races in 2007 to earn a bonus that resulted in a payout of over $500,000.
ITU was inspired by this series format in the US to form the World Triathlon Series in 2009 on a global scale, albeit draft-legal. As the Lifetime Triathlon Series stuck to their guns with non-drafting races for the pros, the World Triathlon Series overtook them as the pinnacle of Olympic Distance racing.
The 'equaliser' format used at the MetaSprint Series has been 'borrowed' from this event. Unfortunately MetaSport cannot match the $200,000 bonus for the winner of "the battle of the sexes" that Minneapolis paid out.
---
Find out more about MetaSport Live and the Triathlon World Tour, 6 May – 1 June 2020, here. If you wish, join us, it's free!
Check here the other Triathlon Destinations reached by the MetaSport Live Triathlon World Tour participants and learn interesting triathlons facts.