NOOSA, AUSTRALIA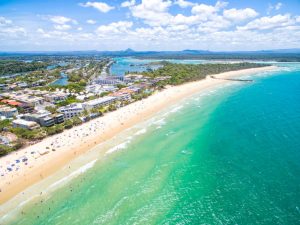 Aussie, Aussie, Aussie
Aussie, Aussie, Aussie
The Noosa Triathlon evolved from a one-day race in 1983 to a 5-day multi-sport festival nowadays. Pro and amateur athletes come to race, and stay to party afterwards in the glamorous seaside town. It rivals Hamburg for the title of the World's Largest Triathlon.
Nowadays the Noosa Triathlon is quite unique for its non-drafting format pro race. It's a remainder from the early years when the Olympic Distance triathlon was raced in a non-drafting format everywhere. Since 2019 Ashley Gentle is the triathlete with the most wins in Noosa (7), leaving other prolific champions (and couple at the time) Craig Walton (6) and Emma Snowsill (5) behind her.

PS. No need to put nationalities behind the winners in Noosa, because nine out of ten times they're Australian. With Australia producing amazing triathletes it is still a list that inspires.
---
Find out more about MetaSport Live and the Triathlon World Tour, 6 May – 1 June 2020, here. If you wish, join us, it's free!
Check here the other Triathlon Destinations reached by the MetaSport Live Triathlon World Tour participants and learn interesting triathlons facts.