PHUKET, THAILAND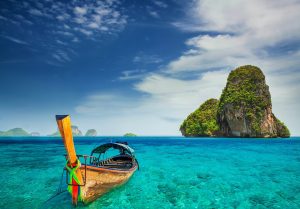 The Race of Legends
The Laguna Phuket Triathlon is probably the longest running triathlon in South East Asia. The "race of legends" started in 1994 and can boast a remarkable list of triathlon stars on their winners list. The November event was a welcome season closer cum holiday for the invited pro athletes.
Besides it's unique 1.8km swim / 55km bike / 12km run distance and the challenging hilly start of the bike, it was the wild after-party that made it a must-do event on the regional race calendar.
From 2010 to 2012 Laguna Phuket also hosted an Ironman 70.3 and from 2013 to 2015 a Challenge Half. Since 2016 the Laguna Phuket Triathlon is the main event again. However, with nowadays so many events on the calendar it has lost its prominent status.
QUIZ TIME!

Which male and female athlete does not feature in the Champions' List?
Men: Simon Lessing, Craig Alexander, Greg Bennett, Alastair Brownlee, Jan Frodeno
Women: Paula Newby-Fraser, Belinda Granger, Chrissie Wellington, Radka Vodickova, Imogen Simmonds

Answer: Alastair Brownlee, Chrissie Wellington
---
Find out more about MetaSport Live and the Triathlon World Tour, 6 May – 1 June 2020, here. If you wish, join us, it's free!
Check here the other Triathlon Destinations reached by the MetaSport Live Triathlon World Tour participants and learn interesting triathlons facts.
---