TOKYO, JAPAN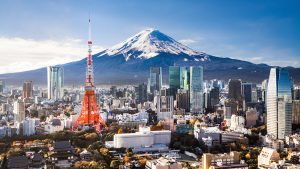 Olympic drama before it even started
The only reason Tokyo is on our list is because of the upcoming Olympic Games. Though there is already plenty of drama before the event has even started. The expected heat of the Tokyo summer has made the organisers change the start to 6:30am, extra filtering screens are being placed to improve the water quality and then there was the 2019 test event controversy. First the run of the women's event was shortened to 5km, next Zaferes (USA) – the outright favourite – crashed on the bike and then two british athletes, Jessica Learmonth and Georgia Taylor-Brown, were disqualified for not contesting the win and crossing the finish hand-in-hand. Flora Duffy (BER) thus won her first race back from a foot injury. Tyler Mislawchuk (CAN) won the men's race.
New in Tokyo is a team event called the Mixed Relay. Each team consists of 2 women and 2 men that complete a short distance triathlon in a relay format. Mixed Relay World Championships have been held since 2009, but is only recently taken more seriously since it was added to the Olympic Program.
---
Find out more about MetaSport Live and the Triathlon World Tour, 6 May – 1 June 2020, here. If you wish, join us, it's free!
Check here the other Triathlon Destinations reached by the MetaSport Live Triathlon World Tour participants and learn interesting triathlons facts.